Warranty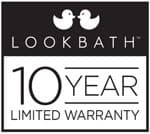 10 YEAR - LIMITED WARRANTY
LOOKBATH Corporation hereby provides a limited warranty to the original purchaser that its products will be free from defects in material or workmanship when properly installed pursuant to LOOKBATH Corporation's installation instructions for a period of ten (10) years from the date of purchase. This limited warranty does not cover materials and component parts manufactured by others (such as pumps, jets, pipes and fittings), which are subject to warranties offered by their original manufacturers.
This limited warranty is non-transferable and shall be voided if the product is removed from its place of initial installation, or is not installed in accordance with LOOKBATH Corporation's installation instructions. Further, this limited warranty does not apply if the product has been subjected to accident, abuse, misuse, damage caused by flood, fire or act of God, or if the product or the plumbing fixtures used in connection with the product are not installed in compliance with local building codes, bylaws and ordinances. Any modifications or alterations to a product, will void all warranties.
LOOKBATH CORPORATION'S LIMITED WARRANTY OBLIGATIONS ARE EXPRESSLY LIMITED TO THOSE SET FORTH HEREIN, AND ARE IN LIEU OF ALL OTHER WARRANTIES, EXPRESSED OR IMPLIED OR OTHERWISE AND MAY NOT BE EXTENDED BY LOOKBATH CORPORATION'S REPRESENTATIVES, AGENTS, EMPLOYEES OR ASSOCIATES. THE LIABILITY OF LOOKBATH CORPORATION TO THE ORIGINAL PURCHASER WITH RESPECT TO THE SALE OF A PRODUCT SHALL BE LIMITED TO REPAIR OR REPLACEMENT, AT THE SOLE DISCRETION OF LOOKBATH CORPORATION, AS PROVIDED HEREIN TO A MAXIMUM OF THE PURCHASE PRICE OF THE RELEVANT PRODUCT AND DOES NOT INCLUDE ANY COST OF REMOVAL OR REINSTALLATION OR CONSEQUENTIAL DAMAGES OF ANY KIND OR LABOUR CHARGES RESULTING THEREFROM. LOOKBATH CORPORATION SPECIFICALLY DISCLAIMS ALL CONDITIONS AND EXPRESS OR IMPLIED WARRANTIES, INCLUDING THOSE OF MERCHANTABILITY AND FITNESS FOR PARTICULAR PURPOSE. IN NO EVENT SHALL LOOKBATH CORPORATION BE LIABLE FOR INCIDENTAL, SPECIAL OR CONSEQUENTIAL DAMAGES EVEN IF LOOKBATH CORPORATION HAD BEEN ADVISED OF THE POSSIBILITY OF SUCH DAMAGES.
To obtain any limited warranty service, contact LOOKBATH Corporation by calling (778) 284-8429, or by e-mail at warranty@lookbath.com, or by writing LOOKBATH Corporation, Attention: Limited Warranty Claims at 1441 Kebet Way, Port Coquitlam, B.C. V3C 6L3.
Please provide all pertinent information regarding any limited warranty claim, including a complete description of the problem, the model and serial numbers of the product, and the purchase date as well as a copy of the original invoice. The original purchaser shall permit an authorized representative of Look Bath Corporation to inspect the product following the submission of a limited warranty claim. Following the said inspection, LOOKBATH Corporation will repair or exchange, at its sole discretion, any product found to be defective in material or workmanship. The exchange of a product will only be considered when LOOKBATH Corporation has eliminated all options to restore the product to acceptable factory condition. Exchange of a product is limited to supplying replacement product of comparable size and style, and does not include any cost of removal or installation.
LIMITED WARRANTY DISCLAIMER
Pooling up to 10 cm diameter is deemed within LOOKBATH Corporation's standard tolerance.
Product must be installed level in all directions.
Products may flex and creak when installed in accordance with LOOKBATH Corporation's installation instructions.
Variances up to plus or minus 6 mm are within LOOKBATH Corporation's standard tolerances.
LOOKBATH Corporation reserves the right to discontinue and/or change models, colours and specification in design on all products without notice and without incurring obligations.